---
SimPal-T4 GSM power socket is the simple remote power control device, work with GSM SIM card, remotely turn on/off the power output by sending SMS or calling from your mobile phone. Temperature sensor included on each socket, it can work for temperature alarm and thermostat control.
Built-in power capacitor to make device auto send SMS when power lost or restore, working as power failure alarm.

Good choice for remote power control and temperature monitor. Widely use to control home heating device, router reboot, electricity application control etc.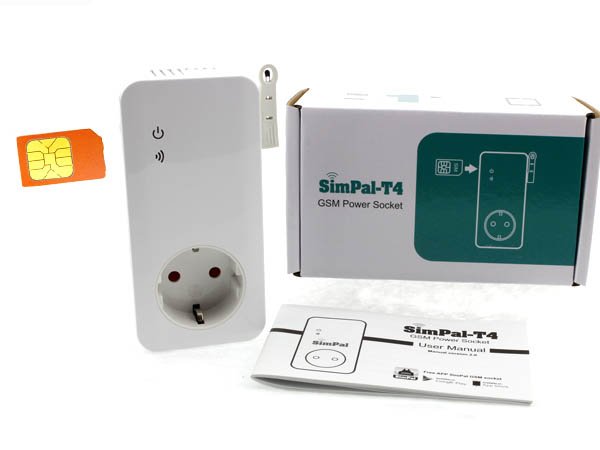 Main Features:
Easy control socket power output with mobile phone
The socket system work with GSM SIM card, no WIFI or internet request, simple sending SMS in your mobile phone to turn on/off socket power anywhere. IOS and Android APP help to configure the socket in your Smartphone.

Power failure alarm
SMS alarm to user's mobile phone when 220V power sources lost or restore.

Work as thermostat
Connected with electric heater, it can make it work as thermostat. When temperature high, auto turn off power, when temperature drop down, auto turn on power. Easy to set temperature range by SMS command.

Temperature monitor
Temperature sensor attached on each socket, SMS alert to your mobile phone once the temperature out of setting range.

Worldwide socket types
Germany, France, Australia, American and British socket plug available.

Specifications
Product size125×60×80mm
GSM frequency 850/900/1800/1900Mhz
Power intputAC110~230V
Max power loading16A or 3600W
Temperature range-10°C ~ +50°C
IndicatorNetwork and Power LED in blue color
Socket types Germany, France, Australia, American, British
SimPal-T4 Manual 2017.12 (120x70mm) 料号16ENG00123).pdf