---
SimPal-W220 WiFi Thermostat Socket, come with temperature sensor, real-time display temperature on APP, send message or email when temperature out of setting range. Auto turn on/off power according temperature setting.
Support power monitoring, it will send message or email when power load change. Check daily/ monthly power consumption on APP.
Use to monitor your home electrical appliances working status, monitoring home temperature and thermostat control for heater.
Main Features:
wRemotely on/off power
Connect with WiFi network, remote turn on/off power on APP.
wReal-time temperature
know the environment real-time temperature on APP.
wWork as thermostat
Connected with electric heater, it can make it work as thermostat. When temperature high, auto turn off power, when temperature drop down, auto turn on power. Easy to set temperature range on APP.
wPower Monitoring
Real time monitoring connected device power load, when power load change, it will send message or email.
Technical Specification:
| | |
| --- | --- |
| Model | SimPal-W220 |
| Product size | 120*60*40 mm (EU plug) |
| WiFi protocol | 802.11 b/g/n 2.4G only |
| Plug and Socket type | Germany, French, UK, US available |
| Power input | AC 110~230V |
| Temperature sensor range | -10℃~50℃ |
| Indicator | Power output and wireless signal in Blue |
| Max power loading | 16A/3500W |
| Standby power consumption | 20mA |
| Power Monitoring range | 0-3500W |
| Support wireless sensor | No support |
| Thermostat control | YES |

l Optional accessories: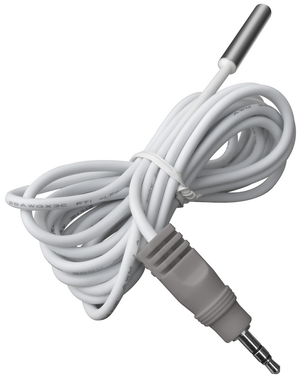 DTS-002 Temp sensor