---
SimPal-T2 GSM temperature monitor is the simple temperature alert device, it come with GSM module, temperature sensor inside, use to monitor environment temperature, only need to install SIM card and plug into wall socket, then it can sending temperature value or alert message to user's mobile phone by SMS. It also can connect with external higher accuracy external temperature sensor, the sensor can put inside water or extremely high/ low environment. SimPal-T2 also support power lost/restore alert, sending SMS when power lost.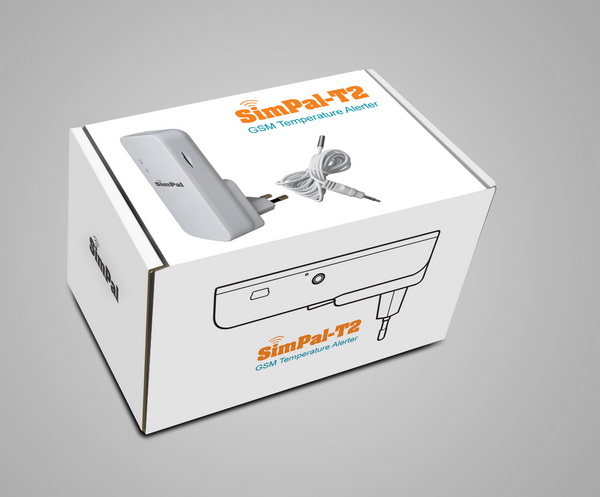 Main functions:
Temperature checking: Sending SMS to check the current temperature value of environment.
Temperature alert: user can set temperature range, SimPal-T2 will auto sending SMS once temperature out or back the setting range.
Rapid temperature alert: Sending SMS when rapid temperature change, using to alert when there is a fire in house.
Worked with external temperature sensor: it can connect with one cable temperature sensor, the sensor is waterproof and working in extremely high/low environment.
Power lost alert: SimPal-T2 will sending SMS once power lost or restore.
EU, AU, UK* and US plug available.

Specification:
Size: 111*57*70mm (EU plug)
Built-in temperature sensor range: -10— +50 degree.
External sensor range: -30—+100 degree.
External sensor type: DS18B20
GSM frequency: 850/900/1800/1900Mhz.
LED: Power indicator-Blue, GSM indicator-Blue
Plug type: UK, EU, US, AU plug.
Working voltage: 110-230V
Working environment: -10—+50 degree.